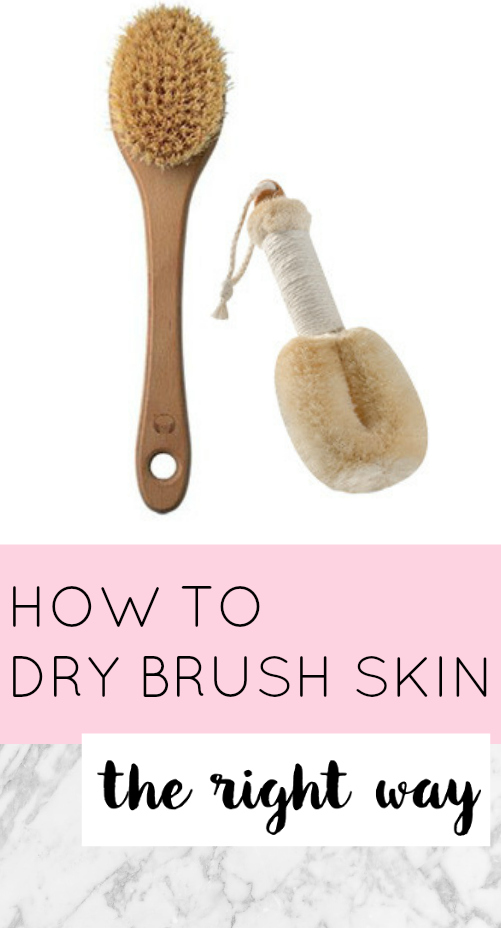 How To Dry Brush Skin
I've shown many of my friends how to dry brush skin the right way. Dry brushing has been an anti-aging "secret" for centuries. It's excellent for your skin (your largest organ of detoxification), releases toxins and gets a sluggish lymph system moving, all while helping to tighten, tone and reduce cellulite.
Simply put, dry brushing is exercise for your skin.





Body Brush Basics
Use a natural fiber brush – available at most health food stores. You definitely want a brush with some friction, nothing too soft.
My favorite brush right now is the Mio body brush. It features rounded nodules that massage as you brush, which makes it especially ideal for the treatment of cellulite. It's a natural boar bristle brush with the perfect amount of friction, which is exactly what you need for improving the health of your skin.
Dry Body Brushing Technique
Learning how to dry brush skin the right way is a game changer. Yes, there is a rhyme and a reason to this. The general rule is to always follow the lymph flow by brushing upwards (towards the heart) and by brushing the body in natural sections (like from ankle to knee, etc.)
Brush equally on each side of the body, otherwise you may promote imbalance. Thus, pick a number. If it's 4, it's 4 strokes up from foot to knee on the right side of the body; then 4 strokes up the foot to the knee on the left, etc.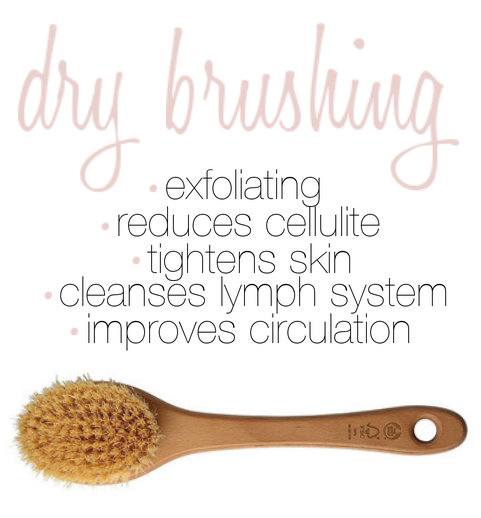 ♥ Begin by brushing palm of hand from fingertips to wrist. Repeat on back of hand in same direction.
♥ Continue brushing upward from wrist to elbow, front and back. Brush upward elbow to shoulder, front and back.
♥ Brush down through armpit, and then across armpit to center of body.
♥ Lower the arm and brush from shoulder joint to center of body (above bust.)
♥ Brush under bust from side to center of body in one semi-circular stroke. Brush above bust in upward strokes toward neck.
Repeat same sequence on opposite arm.
♥ Brush waistline with upward strokes, front and back.
♥ Begin legs by brushing the bottom of the foot from toes to heel. Repeat on top of foot, toes to ankle.
♥ Brush from ankle to knee, all around the leg. Brush from knee to hip, all around the thigh. (Meaning # times on the front of the thigh, # times on the inner thigh, # times on the outer thigh, and # times on the back of the thigh.)
♥ Be certain to brush up the inner thigh and through the groin.
♥ Brush with upward strokes over entire butt and upper hip area. Repeat same sequence on opposite leg.
♥ Finish with upward strokes from abdomen to waistline, and "hip pad" area.
Dry Brushing Essentials
Mio Body Brush
Burt's Bees Vit E Body Oil
For best results, use the dry body brushing technique daily right before showering. Finish up with a body oil.
This routine will take just 7-10 minutes and will give your skin a great workout and glow!
Now that you've learned how to dry brush skin, will you give it a try?