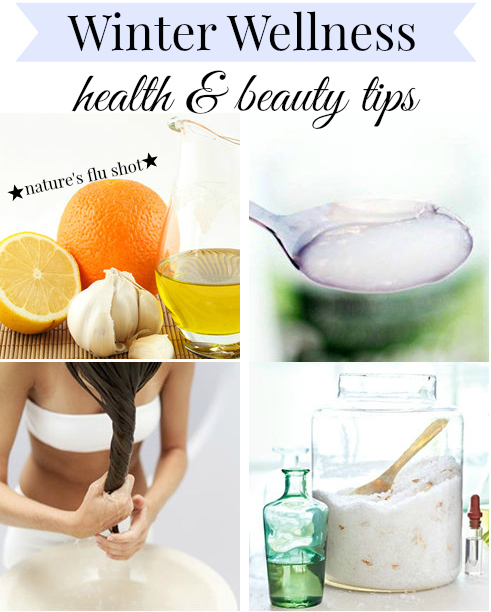 Winter wellness tips to stay glowing, gorgeous and healthy all season long!
Keep sinuses clear
Eucalyptus is great for opening airways & reducing phlegm and mucus. The properties within the eucalyptus also work as an antiseptic & antibiotic to soothe irritated sinus cavities and scratchy throats.
Sprinkle a few drops onto a damp cloth and hold it over your nose, or try a Steam Inhalation: Fill a bowl with boiling water and add 5-8 drops of eucalyptus oil. Drape a towel over your head & bowl, closing your eyes and keeping your face a safe distance from the hot water. Inhale the steam deeply for about 10 minutes, taking breaks to cool off as needed. This will clear your sinuses for sure!
Regularly steam your face
A must for bringing moisture to pores, increasing blood flow and loosening dead skin cells. Buy a home steamer or hold a warm washcloth over your face for five minutes. (Steam three hours before a big event to banish dullness.)
Hydrate dry skin
Before I get in the shower, I slather my skin in a very generous coat of coconut oil and massage in well. It acts as a protectant layer so that the hot shower doesn't dry out my face further. The steam, hydration + coconut oil all make for a very nice combination. Rinse at the end of the shower with warm water. What remains will be the perfect amount of oil + hydration!
Nature's Flu Shot
Boost your immune system with nature's flu shot – juice of 1 fresh lemon, 3-5 garlic cloves (crushed), 1 tablespoon honey, 2 tablespoon ginger powder, 1/8 teaspoon cayenne powder, 1/8 teaspoon turmeric, 1 cup of water or pineapple juice.
Combine & blend all ingredients. Take 1 cup a few times a day until symptoms are resolved.
Detox Bath
If you are feeling under the weather or sluggish or just want to recover from a long day, try a detox bath! It's a great way to help your body get rid of toxins and ease some of these symptoms.
To draw a bath…
Add 2 cups Epsom salt to a very hot bath (as hot as you can stand it). Add 5-10 drops lavender essential oil. Also add 1 cup baking soda to unfiltered bathwater. Soak for 20 minutes, fully immersing yourself in the water & relaxing. No perfumed lotions or soap after detoxing. Once dry, apply a natural body butter or your favorite body oil.
Do not eat immediately before or after taking a detox bath. Just hydrate yourself with filtered water before and after, allowing time after your bath to rest and rejuvenate.
Hair Oiling
Once a week, apply coconut, sweet almond or castor oil to scalp/hair and massage it in for a few minutes. Leave in for a minimum 30 minutes (or overnight if you can) then shampoo. Oiling your hair will nourish dry and brittle hair, making it smooth and healthier, while giving it the best environment to grow. I never go a week without one!
Also . . .
– Eat citrus like it's goin' out of style
– Take in deep sleep & enjoy the early a.m. stillness in silence
– Always keep your neck & head covered outdoors
– Eat warm. Less moisture in the air means your body wants more moisture in your food. Soups, pot-pies & stews are on the menu.