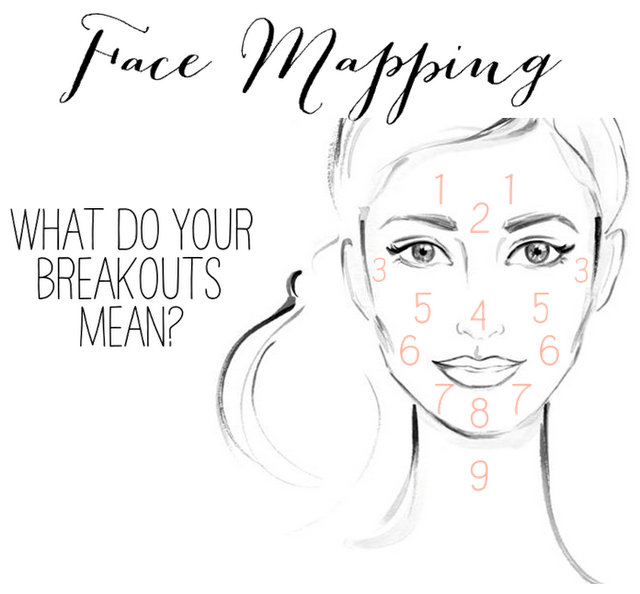 What's happening on your face can be very telling as to what is going on in your life and your health. The skin is the largest elimination organ in your body, so you should absolutely listen to your skin when it comes to checking on other health issues.
Face mapping, which combines modern dermatology with ancient Chinese medicine, is the idea that there's a correlation between your internal organs and different zones of your face.
Using the face map as your guide, you can address the underlying causes of blemishes.
Face Mapping – Blemishes and What They Mean
1 – Digestive System:
If you have frequent breakouts in this area, be sure to drink plenty of water to flush out toxins and start eating more whole foods, as well as getting more sleep. Some of the best antioxidant rich foods or drinks include green tea, lemon water and berries. Taking probiotics daily will support a healthy digestive system.
2 – The Liver:
This is the area where food allergies show first, so keep track of what you're eating. Reduce the amount of alcohol you're drinking, cut out greasy foods and reduce your dairy intake. The liver detoxifies between the hours of 1am + 3am, so sleep is important to help regenerate the liver.
3 – The Kidneys:
Blemishes (and dark circles) around the eyes and temples are related to the kidneys and can be caused by dehydration. Always keep yourself hydrated and strive for quality sleep.
4 – The Heart:
This part of your face is full of dilated pores, so make sure you take off your make-up every night and keep your make-up brushes clean. Check your B Vitamin levels and blood pressure and decrease spicy foods. Swap "bad" fats for "good fats", like Omega 3 & 6, found in nuts, avocados, and fish. Also get plenty of fresh air. A short walk every day can do wonders for your health.
5 – The Lungs:
Your upper cheek is linked to your lungs. If you are living in a highly polluted area, the air you are breathing will show in this area of your face. Smoking can also cause blemishes and broken capillaries here. If you sleep on the side of your face, the germs and dirt can be transferred and will cause breakouts. Change your pillowcase at least once a week, and wipe down your phone with an antibacterial wipe every few days.
6 – Dental:
Breakouts on your lower cheek can be an indication of dental issues. If you have any infections in your mouth, especially involving your gums, this will show on the outside too. Always keep on top of your dental health, brushing, mouthwash and flossing twice a day and regular check ups at the dentist. Oil pulling can help improve dental issues.
7 – Hormones:
For many women, this area is a key indicator of hormonal imbalances, particularly around a certain time of the month. Reducing stress and getting proper nutrition, along with plenty of exercise can help reduce the severity of blemishes. There are also herbs that can help balance hormones such as: Vitex, Evening Primrose Oil, and Dong Quai. Always consult with your doctor!
8 – The Stomach:
This area can also be caused by poor diets and food allergies. Step up your fiber intake, drink herbal teas or detox your system to improve blemishes on your chin.
9 – Stress:
Blemishes in this area are usually caused by stress. Practice stress relieving activities, such as exercise, meditation or writing. Find what works for you. Your perfume could also very well be the culprit behind your neck breakouts.
*This guide is designed to lead you in the right direction; just because you have a blemish between the brows, doesn't always mean your liver is having issues! Do remember it's always best to see your GP or a dermatologist for a full diagnosis.*