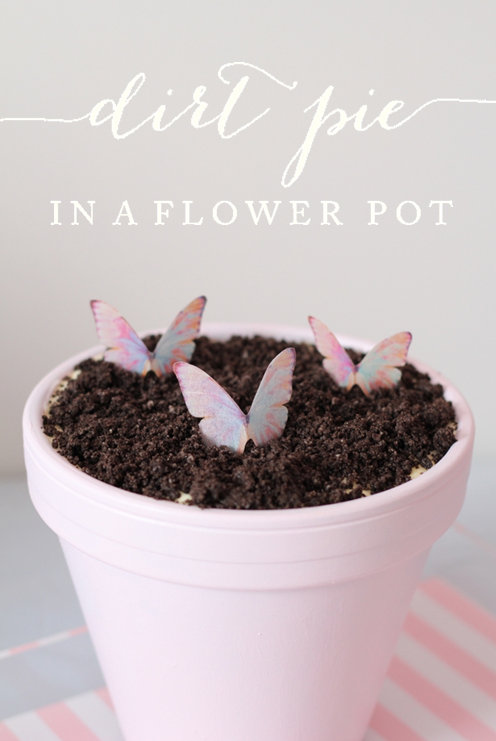 "Dirt pie" may not sound the most appetizing, but it's actually one of my favorite no-bake desserts. Growing up, I had a classmate whose mother would make this for our class and I always enjoyed it.
I love this dirt pie recipe as the perfect springtime and Easter dessert, especially paired with the terracotta pot. It's very, very simple to make & always seem to be a hit with a crowd.
INGREDIENTS
♡ 1 full package of oreos
♡ 1/3 cup butter
♡ 8 oz. cream cheese
♡ 1 cup powdered sugar
♡ 2 packages 3.4 oz. instant pudding — I like vanilla, you can use chocolate if you like.
♡ 3.5 cups of milk
♡ 8 oz. whipped topping
*Before you begin, carefully line the inside of your pot with parchment paper.*
1. Crush oreos in a food processor until they resemble dirt.
2. Beat together butter, cream cheese & powdered sugar.
3. In a separate bowl, whisk pudding mix & milk. Fold in whipped topping.
4. Combine cream cheese & pudding mixtures together until smooth.
5. Layer! Start with a layer of your "dirt", then pudding mixture, until you end up with your final "dirt" layer on top.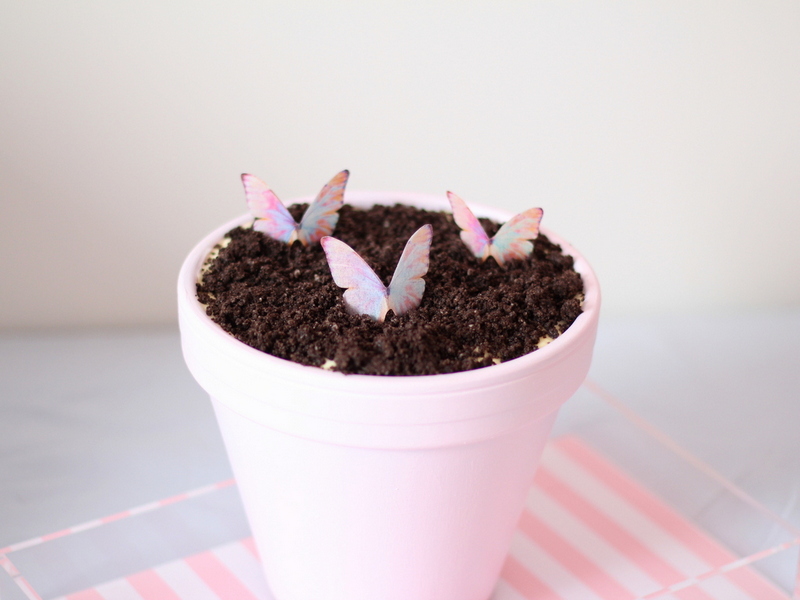 I used a basic terracotta pot that I painted pale pink using Martha Stewart's craft paint in "Ballet Slipper".
Instead of using gummy worms to decorate, I opted for these wafer butterflies that I had leftover from a cake I made. I purchased them from etsy seller uniqdots. (She's awesome; highly recommended!)
I hope you enjoy this sweet & simple Springtime dessert!