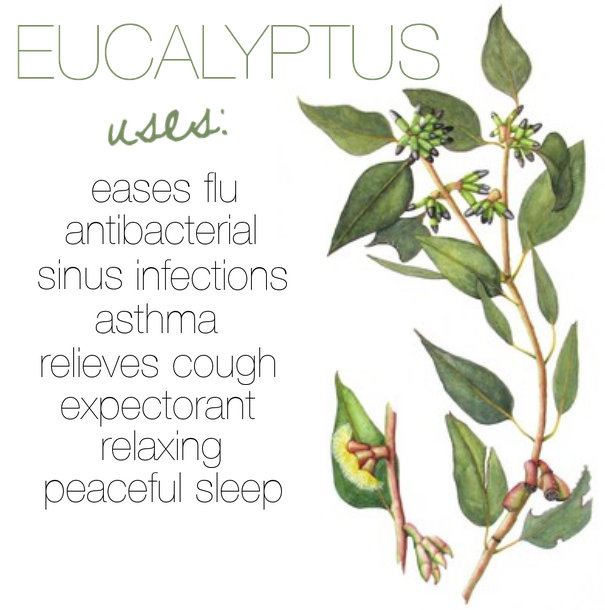 I'm very prone to sinus issues and one of my favorite natural remedies to alleviate
congestion is by using Eucalyptus oil.
It is highly medicinal and commonly used to treat respiratory problems including: cold, cough, sore throat, asthma, nasal congestion, bronchitis and sinusitis.
Eucalyptus oil should always be diluted with a carrier oil such as, grape-seed, olive or
almond oil, before applying topically. A ratio of 4 drops of essential oil for every 10ml of
carrier oil is a good place to start.
Now you're free to try some of these methods:
♥ Dab onto nose and along the forehead and rub into chest and temples or simply inhale the aroma to clear blocked passageways and break down mucus.
♥ Add a few drops to a bowl of boiling water. Drape a towel over your head and bowl, closing your eyes and keeping your face at a safe distance from the hot water. Inhale at regular intervals for 10 minutes.
♥ You can also add a few drops while you take a bath or hot shower. Inhaling the steam will decrease congestion.
♥ Rub 4-6 drops into the middle of the soles of your feet before bedtime. Helps prevent coughing, stuffy nose, and will lead to a more peaceful sleep.
♥ Disinfect a sick room to keep germs from spreading. Dilute a drop or two of eucalyptus oil in a spray bottle of water, spritzing liberally.
Note: Always consult your doctor and use caution, especially if you're pregnant, nursing or have a weak immune system. Essential oils may be natural, but that doesn't mean they aren't powerful.